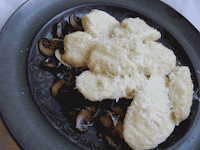 A couple of months ago, I decided to take on a new event, the sister challenge to Daring Bakers, Daring Cooks.

One of the biggest attractions to this event was that, along with a cooking-related challenge, it was only Once A Month.

I participate in several weekly and biweekly events, so this was perfect.

Basically, the guest host posts the cooking challenge on the 17th of each month, and the participants reveal their results on the 14th of the following month.

Today there should be an influx of stories on the Daring Cooks' adventures with ricotta gnocchi.


Our lovely hostesses, Lis and Ivonne, began the inaugural event with a recipe from The Zuni Café Cookbook by Judy Rodgers, Ricotta Gnocchi.

This cookbook has been on my wish list for quite awhile, so I was looking forward to trying out one of the recipes.


We could also make our own fresh ricotta, if we wished, and since this was on my "to make" list on my kitchen blackboard, I took the golden opportunity.
I will say, that having made and tasted homemade ricotta, it bears little resemblance to the store-bought variety.

It is smooth and silky and just tastes so much better.
Even though I let my cheese drain for about 36 hours, and it passed the paper towel test, it apparently was still too moist for the gnocchi.

My first batch fell apart at every turn, and the cooked 'tester' looked like someone had an accident right there on my kitchen counter.
Because I was exceptionally hungry while trying to make these, my frustration level was higher than usual.
My advice to myself was to put the mixture away for awhile, or risk failing the challenge and turning it into cheesy scrambled eggs.

Two days later, I tried again.

Enough moisture had apparently evaporated from the ricotta-egg mixture so that the little gnocchi were easier to handle.

I also decreased the size of the measuring spoon, from 3 teaspoons to 2 teaspoons, and that seemed to help.

One other note, while I was cooking each batch, I put the remaining ones in the freezer to chill.

The end result of this was that the gnocchi were less fragile all the way around.



I kept the serving presentation simple: gnocchi on a bed of sauteed mushrooms with grated Parmesan on top. They were light as a feather, very tasty, and disappeared quickly.
This was a great first challenge. Although I might possibly make the gnocchi again, given the learning experience, I will definitely make the ricotta again.
Check out the Daring Kitchen website for more information about the group and the challenge.